Self-printing versus professional printing services: Practical tips & decision-making advice
The big, long-awaited day when one is done with writing their thesis is finally here! After all the stress and exhaustion, one is very glad to be done. However, students' work is not finished just after they have written the academic document and have it proofread. There is still a certain amount of administrative work to do prior to submission day and future graduates should not underestimate the amount of time it will take them to turn their text into a finally printed and bound hard-copy document. Yet, what is the best way to print to ensure that the thesis/dissertation examiner will be impressed? Should one use a personal printer and do it at home, or use the help of a professional printing service provider instead? Before making any final decision, students need to first consider different aspects in order to ensure that they will achieve a proper printing of the digital thesis/dissertation version they have spent a lot of time and effort creating. This article aims to inform prospective graduates about the main advantages that professional printing companies can offer compared to self-printing.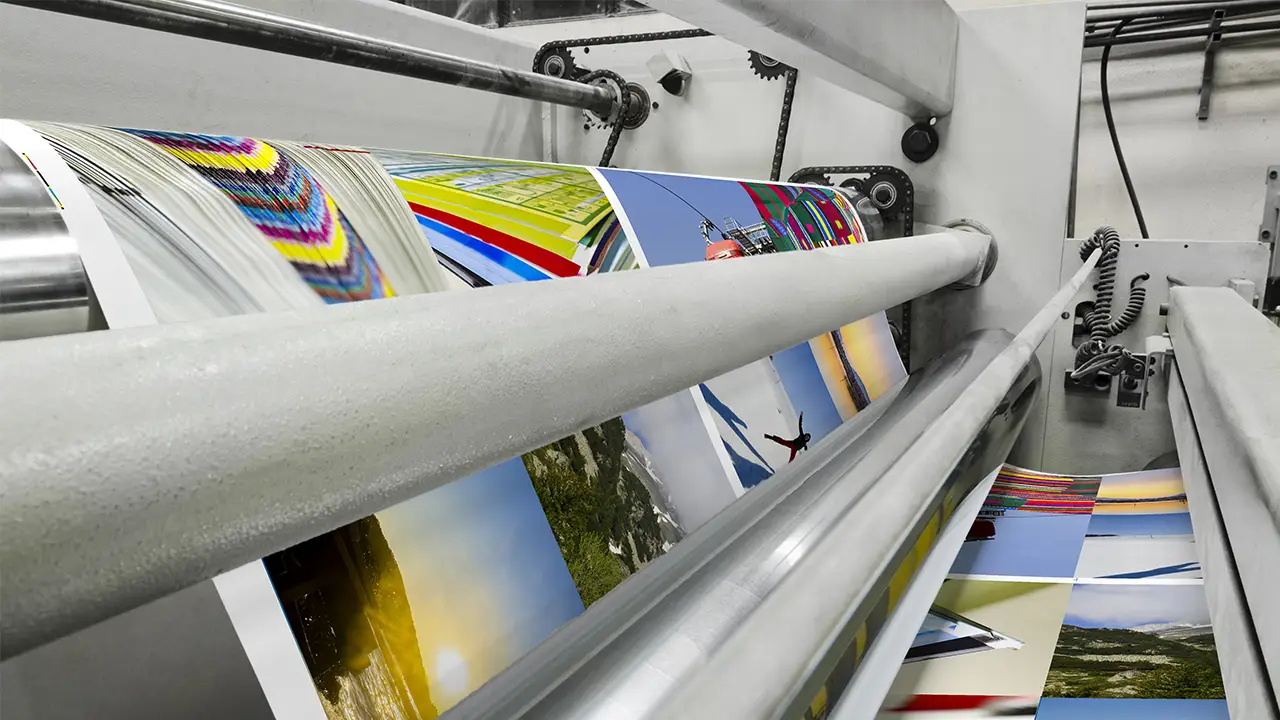 Owning a printer: Convenience or just additional cost?

For students, having a printer at home is really handy and can certainly make their university life a lot easier. Being a university student usually means writing and printing a lot of papers, and there is no doubt that having a printer at home that no one else will be using is pretty convenient and saves money too. The initial cost of such devices is fairly low nowadays. A home printer provides the opportunity to produce hard-copy documents and other printed materials without leaving home. Usually, the overall cost per page of printing at home is considerably lower than in the event of using printing services. However, it is not all sunshine and rainbows when it comes to owning a desktop printer.
Just buying a printer is not enough. Before one is able to actually use the printer, there are also supplies that need to be bought, like paper media and printer ink. In fact, one of the biggest frustrations of owning a printer is running out of ink just when it is most needed and having to figure out how to change the ink cartridges. At the same time, even when students do not use their desktop printers at home, the printer can still be costing them money. This is due to the reason that ink nozzles can easily clog up when they are not being used. If that happens, then the printer need to be cleaned by someone who knows how to do it and that costs money too. Additionally, most of the inks used for desktop printers are water-soluble, thus making prints prone to smearing and gradual fading with time. And this is definitely not the result one is looking for.
Professional printing services and what they can provide
Many students tend to think that they will be able to successfully manage the printing task of their thesis or dissertation completely by themselves, but this is not always the case.
Most of the time, future graduates do not throw themselves into buying super expensive printers just because they will not use them professionally. However, when it is about printing a thesis/dissertation there is no place for compromises in terms of quality. If it is about printing out several pages, doing the job with the desktop printer at home might be a great idea to save money. However, a thesis or dissertation is something that needs to look flawless. It is usually done just once in a lifetime and it definitely requires some special attention. Such important print job has to be done the right way and by someone trustful who knows how to do it and for whom the quality of the print job will not be in question at all.
The first impression of the thesis examiner will be shaped by the way the thesis/dissertation is printed and bound. It is therefore of high importance that the final version should look professional. And the do-it-yourself print job does not always turn out as well as the work of a professional printing company. So in case students consider getting through the printing of their thesis or dissertation by themselves and taking the risk of compromising the quality of their job, maybe they should think twice before making a decision.
Top 4 reasons why professional printing services are the right choice for you

There are many reasons for students to benefit from using professional printing services for taking care of their thesis. Professional printing services offer so much that self-printing does not. Listed below are some of the main reasons why it is recommended for students to entrust their thesis/dissertation printing tasks with professional printing services.
Professional printing service providers offer higher quality and level of expertise
While printing done by a desktop printer can be of somewhat good quality, it will still never be of the same high quality one could get if using professional printing services instead. Normal (home) desktop printers can print quality papers if the lot is small. However, in case of a big bunch of papers, which is the case with printing a dissertation or a thesis (e.g., Master's thesis, doctoral thesis), it is almost impossible for normal printers for personal use to maintain high quality. The ink in the printers should be replaced every now and then and it can be a messy job. There is no such problem with printing companies. They have technologically advanced and sophisticated printers which can easily handle huge lots of paper without compromising with their quality. Additionally, printing companies also provide some other types of printing, such as UV and water-resistant printing, which cannot be done when printing at home. In general, printing professionals provide machines that are capable of achieving higher levels of detail, as well as the software and expertise to optimize each print job. The professional printing services offered on thesis.me can guarantee that the print job will be handled with high accuracy and efficiency.
Variety and quality of printing paper
Another very important factor that students need to take into consideration when thinking about using professional printing services is the quality of the paper provided there. Paper quality is important because the type of printing paper used plays an important factor in the outcome of the thesis/dissertation hard copy. There are different types of printing papers that printing professionals can offer. For example, printing professionals can offer future graduates the option to choose between matte and gloss printing paper. Both paper types have different degrees of color saturation, which is of high importance for the pages that contain graphs or figures and therefore rely on color. As a general rule, gloss paper is usually more suited for bright shades, while matt is more suitable for when darker colors are used. And in case students are still not sure about what kind of paper would be more appropriate for their project, the printing professionals on thesis.me can also offer advice about selecting the correct one in order to reach an excellent level of quality.
Just like the type and quality of paper used for printing, color also plays a big role in seeking the attention of the readers when preparing the hard copy of a dissertation or thesis. However, desktop printers which are not made for professional but just for personal home use cannot provide consistent color supply. What is more, the color choices are also very limited with normal desktop printers and sometimes, future graduates will not be able to get the exact colors that will match their expectations. At the same time, the equipment used by professional printing companies includes a big selection of designs and bright colors. By using the services offered on thesis.me, students can be sure that their dissertation or thesis will have high-quality graphics, charts and images, as well as consistent color that cannot be unnoticed.
Another factor that students need to consider before deciding to print out their academic document at home is that home printers made for personal use are not able to print fast, especially sinde the total amount of papers a normal desktop printer can handle is also limited. When students need to get a high-quality print job as soon as possible, before the submission deadline, a professional printing company will be the right choice. After all, who has the time to wait while the desktop printer for home use prints 100-400 pages? Printing professionals do provide a much quicker turnaround for printing services. Usually, printing professionals are able to do the job in almost no time. On Thesis & Me, students can place an online order for printing and binding their thesis or dissertation from the comfort of their home, and in most of the cases, it will be done within 24 hours. This eliminates the need for the busy future graduates to use extra time to worry about the printing task themselves.
These are just a few of the benefits for students when it comes to using professional printing service providers like thesis.me for their thesis/dissertation printing task. The results are guaranteed to be convincing, and entrusting experienced professionals with taking care of the printing and binding of their thesis is something no future graduate that intends to make an impression can afford to pass upon. When using the professional printing services on thesis.me, future graduates can rest assured that their academic paper will give the examiner an excellent first impression.
Professional printing services