Printing & Binding Your Magister's Thesis The Easy Way
You have reached a pivotal moment in your academic journey – your Magister's thesis is perfectly-written and waiting to be submitted. All you need is a reliable company that can carefully take care of its printing and binding, and make it look as impressive on the outside as its contents on the inside. Well, look no further, because Thesis & Me will do the job quickly, professionally and save you a great deal of worry and expenses. Furthermore, to provide you with the most seamless experience, we offer as many as three shipping options: to your personal address, to your university, or to both.
Our top priority is taking away students' stress when it comes to the printing and binding of their theses. We do that by using world-class technology that is time- and cost-effective. The standard of our work and machinery is extremely high, but we value students' personal finances, so we keep our prices economical. Let us prove it to you!
Why Print Your Master's Thesis With Thesis & Me? Top 6 Reasons
✔ Cutting-edge laser technology
✔ Multiple paper quality grades
✔ Color printing without extra costs
✔ Preprint data check
✔ Fast & free shipping
✔ Top Voucher Codes
Quality Is A Choice – Choose Your Paper Quality
Choosing high-quality paper for printing your Magister's thesis can make a significant difference in its overall appearance and durability. Top-notch paper not only enhances the professionalism of the final document but also makes it more resistant to wear and tear over time. Here are the four quality paper choices on offer at Thesis & Me: 80gsm (standard quality), 90gsm (superior quality), 100gsm (premium quality) and 120 gsm paper (deluxe quality).
Standard Quality 80 gsm Paper
80gsm paper is a standard printing paper that is widely used for printing out projects, manuals, letters, and others. Its light texture takes ink well and offers a smooth finish to the final product.
Superior Quality 90gsm Paper
This type of paper is thicker than 80gsm, which makes it more durable and harder to tear apart over time. The design of the 90gsm paper type makes it a perfect choice for printing out the inside of your Magister's thesis. We recommend that you opt for this type if you are looking to print your final product with a soft cover and spiral binding.
Premium Quality 100gsm Paper
The 100gsm paper is our premium quality variant for everyone looking for a professional design for their Magister's thesis. Its outstanding qualities can be felt through the paper's thickness and smooth surface. What is more, this paper type is specifically developed to make your final product stand out above the rest.
Deluxe Quality 120gsm Paper
The 120gsm paper is a bit sturdier than the other types. This makes it a great choice for double-sided printing without worrying that the ink will bleed through to the other side. What is more, its durability does not allow the paper to be bent easily, which makes it a great choice for printing out your Magister's thesis.
Enhance Your Magister's Thesis With Superior Paper Quality
At Thesis & Me we rely on printers that use cutting-edge laser technology guarantee that there are no spots, lines, or other flaws in your order. In the next step, the book is softened and strengthened with two pieces of 200gsm paper. The procedure is completed by the cover. This is a matter of personal choice, but the quality will be superb whichever option you choose, hard cover or soft cover.
How Much Does It Cost to Print My Magister's Thesis?
When choosing to print your Magister's thesis there are a few things to consider. The price of the final product depends on the following factors:
The type of paper selected
The number of pages
The number of copies required
The type of binding
After you have selected your desired options and configured your order, we will provide you with a quotation for the total cost of the final product.

Print Your Magister's Thesis According To Your University Requirements
It is essential to verify your university's requirements and ensure compliance before printing and binding your Magister's thesis. To meet the necessary standards, several factors must be considered, including:
Color or Black & White: Color printing uses a combination of four colors to reproduce a wide range of tones, while black and white printing only uses black ink. Color printing can be more visually appealing and necessary for charts, diagrams, images etc., but black and white printing can create a classic, timeless look and is often used for documents such as theses, dissertations, or essays that require a more serious presentation.
Single or Double-Sided: Unless specified by your university, you can choose to print your Magister's thesis single or double-sided. The latter saves on paper and can make your final product half as thick. Double-sided printing is also considered to be more eco-friendly than single-sided printing.
Number of Copies: Another important aspect before you proceed to printing out your Magister's thesis concerns the number of copies required. In general, most universities require at least two copies of your final product. We strongly recommend that you check with your university to determine the specific requirements for Magister's thesis submission. What is more, you might also want additional copies printed for your own personal use or for your family members.

Curious about what your thesis will look like? Check it with our 3D preview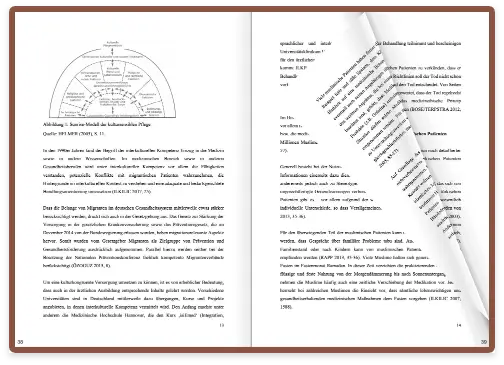 Would You Like Some Competent Help In Deciding?
Thesis & Me will gladly assist and advise you if you are uncertain about what exact specifications you want to go for. You can also take advantage of our precise calculator to receive a custom offer for the printing and binding of your thesis. Start now and leave the rest to our expert team!