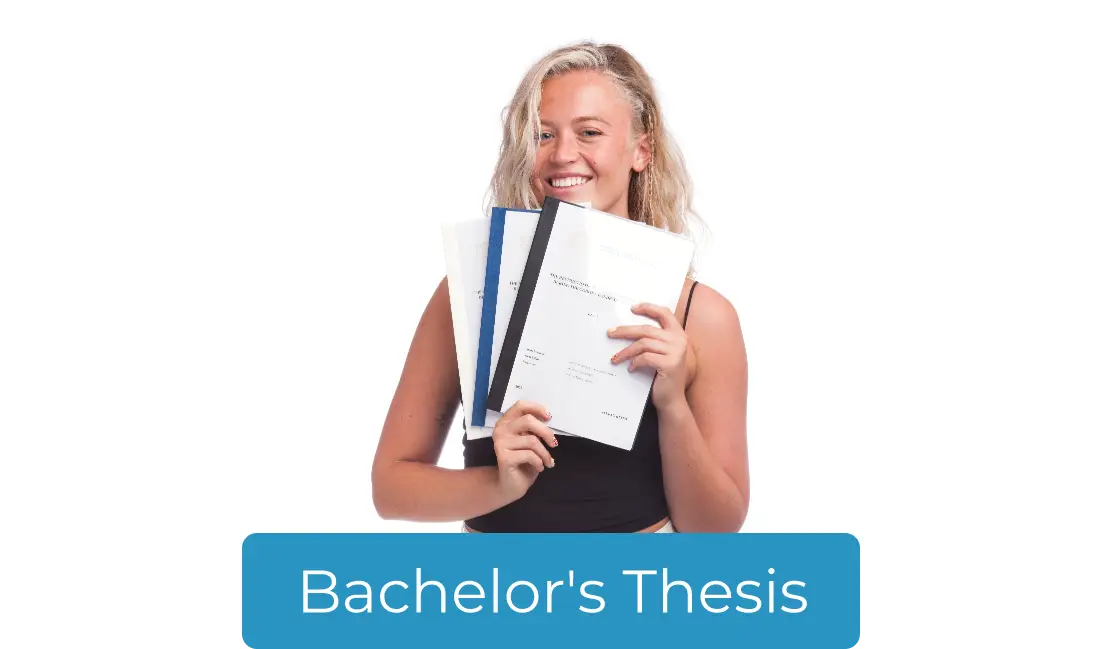 Top-Notch Bachelor's Thesis Printing & Binding
The Bachelor's thesis is the first big milestone in your academic career. It is therefore critical to submit a compelling final project in terms of content, shape, and design. For apart from its contents and form, the printing and binding of your Bachelor's thesis also has an influence on your grade. If you want to impress and have an excellent result, trust Thesis & Me to deliver high-quality printing and binding that not only matches your university's standards, but also makes a lasting impact. And to top things off, in addition to shipping your order to your front door, we can also send it directly to your university for you. You can select from shipping to your home address, university, or both.
Your thesis, whether soft cover or hard cover, will be created by quality and world-approved machinery. If you are worried that our high standards will cost you, let us convince you otherwise! We have made it our mission to cater to students on a budget. Money is tight and there are so many expenses, so we want to save your finances.
Bachelor's Thesis Printing With Thesis & Me – For 6 Reasons
✔ State-of-the-art laser technology
✔ Flexible choice of paper quality
✔ Color printing without surcharge
✔ Data check on demand
✔ Free & fast courier delivery
✔ Money-saving vouchers
Discover Our 4 High-Quality Printing Paper Options
Printing a thesis requires careful consideration of the type of paper that will be used. The paper choice can significantly impact the overall appearance, readability, and durability of the final product. The thickness of paper is typically measured in grams per square meter (gsm). Some may prefer a heavier-weight paper for a more formal and professional appearance, others may opt for a lighter-weight paper as it is easier to flip through. We print the contents of your Bachelor's thesis on 80 (standard quality), 90 (superior quality), 100 (premium quality) and 120gsm paper (deluxe quality).
When it comes to printing a Bachelor's thesis, 80gsm paper is a common choice due to its availability and affordability. The lightweight nature of the paper can make it easier to handle and transport. In addition, this is also a great choice for double-sided printing, which can reduce the overall number of pages needed for the final product. The 80gsm type of paper is ideal for printing forms, letters, manuals, projects, etc.
Superior Quality 90gsm Paper
The 90gsm paper is another popular choice due to its thickness and durability. It is thicker than 80gsm paper, making it suitable for printing high-quality text and images. The increased thickness also makes it more durable and less prone to tearing or yellowing over time. As a general rule of thumb, most people use 90gsm paper for printing the inside pages of a thesis with a soft cover and spiral binding.
Premium Quality 100gsm Paper
Premium quality paper is often associated with the 100gsm type. Using 100gsm paper for printing a Bachelor's thesis can be a great choice. Its thickness and weight provide a premium feel and make it more durable and better preserved over time. The paper's increased weight also helps to give the document a more professional appearance. Additionally, 100gsm paper is suitable for printing high-quality text and images, resulting in a well-polished final product.
Deluxe Quality 120gsm Paper
At Thesis & Me we also offer a deluxe quality paper of 120gsm. This type of paper can elevate the printing of your Bachelor's thesis. Its extra thickness and weight lend it a sumptuous feel that exudes professionalism and sophistication. This paper is also highly durable and resistant to wear and tear, ensuring that the thesis will last for years to come. What is more, 120gsm paper is a great choice for double-sided printing and vivid colors.
Take Your Bachelor's Thesis To Another Level
Our printers use cutting-edge laser technology to print guarantee that there are no spots, lines, or other flaws in your purchase. We next insert two sheets of 200gsm paper to soften the book and give it an exquisite appearance. The process concludes with the cover. This depends on your personal preference, i.e. hard cover binding or soft cover binding, but be sure that whatever option you choose, the quality will be top-notch.
How Much Does It Cost to Print My Bachelor's Thesis?
The final price for printing your Bachelor's thesis depends on several factors. They include:
The type of paper selected
The number of pages
The number of copies required
The type of binding
When you are done with configuring your order and selecting your personal preferences, you will receive a binding price quote for the final product.
We Are Here To Help You Meet Your University Requirements
There is one final step before you proceed with printing and binding your Bachelor's thesis. It is of crucial importance that you comply with the university requirements for your final product. Ensure that you meet the necessary standards by following the guidelines set out by your university. Usually, there are several things to have in mind:
Color vs. Black & White: Black and white printing is more practical for text-heavy documents, while color printing is suitable for documents that contain graphs, charts, and images. Color printing can enhance the visual appeal of the document, but it can also be more time-consuming. Ultimately, the decision between black and white or color printing should be based on the contents of your thesis and the university's requirements.
Single or Double-Sided: Single-sided printing produces a clean, crisp look and allows for easy reading and note-taking. Double-sided printing saves paper, reduces the weight of the document, and can be more environmentally friendly, but may be more difficult to read and may require more effort to add notes or annotations. Regardless, the decision should be based on the requirements set out by your university.
Number of Copies: Typically, students print three to five copies of their Bachelor's thesis. The number of copies required for submission may vary based on the guidelines of your university. Moreover, you might want to have a personal copy for yourself and one for your family.

Curious about what your thesis will look like? Check it with our 3D preview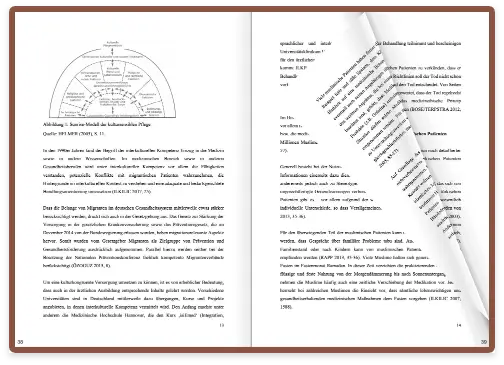 In Need Of Expert Advice?
For your Bachelor's thesis, we recommend opting for a hard cover, if you are going to submit it to a university, or a soft cover, if you intend to enclose it with an application. Still unsure? Use our calculator to receive a personalized offer for the printing and binding of your Bachelor's thesis.