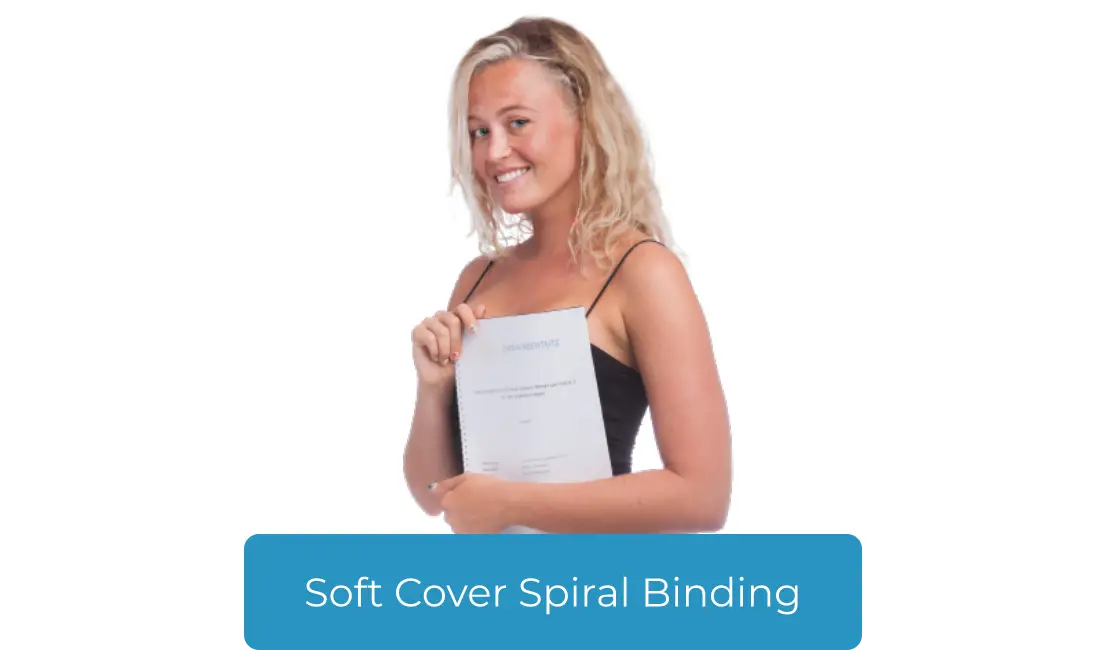 Soft Cover Spiral Binding For A Safe & Secure Thesis
Fancy an easy-to-flip-through binding solution? Choose the practical soft cover spiral option. You will benefit from a soft cover binding for a special experience: lightweight feel – optimal protection against fingerprints – flexible color design & more. Order online now!
6 Amazing Advantages Of Our Soft Cover Spiral Binding
✔ Easy to flip through
✔ Custom & transparent title design
✔ Highly adaptable & stable
✔ Protection from fingerprints
✔ High-quality materials
✔ Optimal price-performance ratio
Soft Cover Spiral Binding With Free Choice Of Colors
With the Soft Cover Spiral you actually have two choices. Get a spine that makes your thesis shine: with an elegant Black, a beguiling Blue, a soothing Bordeaux or a neat White. Plus choose the matching spiral color: white, black or metallic - you decide!
Soft Solidity Power – What Soft Cover Spiral Binding Can Do
Soft cover spiral binding is our most cost-effective book binding option. It is versatile and widely used in the academic setting for printing and binding short academic papers, as well as for applications and other presentations. The average number of drilled holes in the cover and pages is four, and the maximum number of sheets that can be bound is 125.
Softcover spiral binding involves threading a wire or plastic spiral through round holes punched in the book.
We use a spiral binding made of highly strong plastic to join the book's pages and cover. Through tiny holes drilled along the spine edge of the book cover and pages, the coil is inserted and twisted. The average number of drilled holes is four. The coil is squeezed at both ends once it has been threaded through all of the holes on the cover and pages.
Our online printing shop offers spiral-bound soft covers available in A4 size. This cover features a translucent 250-micron density top and a colorful paper spine of 240 gsm. The translucent matte front preserves the binding's front cover and leaves no fingerprints. The back is composed of a strong linen board with a thickness of 240 g/m2 to provide stability. The high-quality metal spiral used in the binding has a lovely white lacquer finish, providing a professional and polished look.
Get your order quickly with our fast delivery and enjoy free shipping. In order for you to receive your product on time and in excellent condition, we guarantee shipment within 24 hours after placing the order. What is more, if requested, we can also deliver your final product to both your personal address and your university address. Does it get more comfortable than that?

Curious about what your thesis will look like? Check it with our 3D preview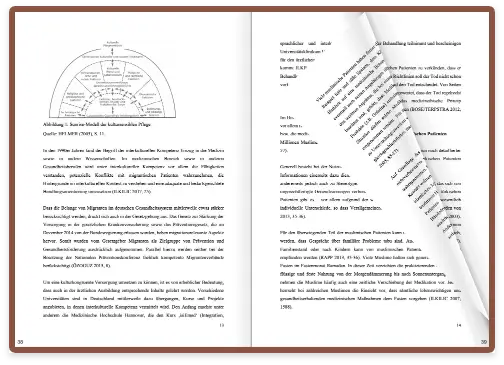 Stand Out With Soft Cover Spiral
Smooth page turning without slipping back. This is guaranteed to make your examiners' work easier. With softcover spiral binding, you benefit from a handy softcover book with high flexibility and excellent durability. At student-friendly prices. Head over to our order page and have your completed thesis printed and sent out in the blink of an eye!