Express Yourself With A Creative Soft Cover Design
In search of a super special cover design for your thesis? Go for the soft cover design option – stylish, sturdy and outstanding. What's it going to be – a ready-made top template or a custom-made cover design? You decide. Take a deep dive into our design choices and let your individuality take its course.
6 Brilliant Benefits Of The Soft Cover Design Binding Option
✔ Stylish design templates
✔ Option for personalized cover design
✔ Optional publication service
✔ Custom, transparent title design
✔ High-quality materials
✔ Protection from fingerprints
Soft Cover Binding With Selectable Cover Design & ISBN Service
Diversity that visibly inspires. Discover 12 diverse cover designs with style. From classic to elegant and modern to artistic and flashy – there's something for every taste. And for all individualists: a personalized book cover design. With a one-of-a-kind design based on your individual artwork – 100% unique.
Do you want your thesis to be read and recognized by as many people as possible? Then take advantage of our exclusive ISBN service! Only the softcover design option offers the prestigious option to publish your thesis. The benefits are evident: You reach more readers and publicly position yourself as an expert. And this is how it works: Simply add ISBN service to your order and become an expert author in no time!
Dazzling & Durable – Here Is Why It Works
To ensure the durability of the book binding, a special hot glue process is used to secure the book and bind it tightly. Thus, the pages are pressed tightly together, with the spine holding everything in place. Since we all know how annoying nasty fingerprints are on books, Thesis & Me offers a smooth satin cover that safely and effectively protects your thesis from fingerprints.
The cover in the soft cover design option is printed in 4/4 color and has a paper thickness of 300 g/m2. The paper inside the book has a thickness of 80 g/m2 and can be printed in black and white or in color. The minimum size is 20 pages.
Benefit from free shipping within 24 hours after order placement and fast delivery, conveniently to your doorstep and/or to your university's address. Packaged in a safe and environmentally friendly fashion.

Curious about what your thesis will look like? Check it with our 3D preview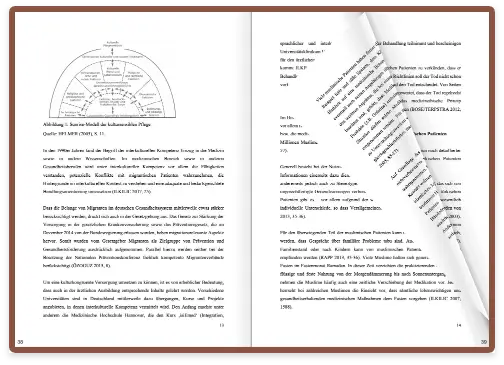 2-in-1 Soft Cover Binding Solution
Pretty clever, huh? With the softcover design option, you get two flies at one hit: you benefit from a firm feel and also give your thesis a very special, personal touch. This way, your dissertation stands out not only on the inside, but also on the outside. Head over to the order page and place your order now!