Expert Printing & Binding Services For Your Doctoral Thesis
You've been researching and working on your doctoral project for years, and now it's time to finish your doctoral thesis. As you've seen from previous degrees, the physical presentation of your thesis plays a role in shaping your final grade. You want to make your dissertation work look professional and be proud to submit it. But you're not sure who you can rely on to assist you with the printing and binding process while also ensuring your satisfaction with the end result? Don't worry, because Thesis & Me will help you complete that final part of your dissertation thesis in a professional, quick and affordable manner. And since we highly value your personal convenience, Thesis & Me offers shipping to your home, university, or both.
Why Print Your PhD Thesis With Thesis & Me? 6 Great Reasons
✔ Latest laser technology
✔ High paper quality
✔ Color printing with no surcharge
✔ Pre-data check
✔ Free & fast shipping
✔ Coupon discounts
Dress Your Thesis In High-Quality Paper
The printing of the thesis content is the first step in the process. Our printers use the latest laser technology, printing the content on 80 (standard quality), 90 (superior quality), 100 (premium quality) and 120gsm paper (deluxe quality), ensuring your order has no dots, lines or other flaws. By adding two 200 gsm paper sheets, the thesis is given a softened and sophisticated appearance.
Standard Quality 80 gsm Paper
Choosing 80 gsm paper for printing a doctoral thesis is a budget-friendly option that still provides a premium look and feel. It has a smooth, non-glossy finish that enhances readability and reduces glare, making it perfect for lengthy documents. Matte paper also adds a sophisticated and professional appearance to the final product.
Superior Quality 90 gsm Paper
For a sophisticated and long-lasting impression, choose Matte 90 gsm paper to print your doctoral thesis. This smooth paper with a matte finish reduces glare and reflections, resulting in clear text and graphics. Its heavier weight guarantees flat and smooth pages, making it easy to manage and peruse. Plus, its robustness ensures the longevity of your thesis.
Premium Quality 100 gsm Paper
For those seeking to print doctoral theses, matte 100 gsm paper is a highly recommended choice. Its superior thickness and weight surpass those of 80 gsm and 90 gsm paper, producing an even more sturdy and high-quality feel to the final product. Additionally, the paper's increased ink-holding capacity makes it an excellent option for printing high-quality images and graphics. Overall, matte 100 gsm paper provides a premium finish, exceptional readability, and durability that guarantees the doctoral thesis's long-term preservation.
Deluxe Quality 120 gsm Paper
If you're looking for the best paper to print your doctoral thesis, our 120 gsm paper is the ultimate choice. This high-quality paper offers exceptional durability, perfect readability, and an exquisite feel, while also allowing for impressive ink absorption. By opting for this paper, your thesis will look impressive and stand out from the rest. Plus, its heavier and thicker composition gives the final product an even more luxurious and high-quality appearance.
Elevate The Quality Of Your Thesis With Our Top-Grade Paper
When it comes to printing a doctoral thesis, opting for high-quality paper demonstrates the author's dedication and hard work, creating a sense of accomplishment and pride. The final phase of the printing process is determined by the selection of the cover type. We offer soft cover or hard cover for your doctoral dissertation.
How much does it cost to print my thesis?
The price of printing your thesis depends on several factors, including:
The number of pages
The type of paper used
The binding type utilized
The number of copies needed
After specifying your order requirements, we will provide you will an immediate price offer for your completed thesis.
Impeccable Thesis Printing: Meet Your University Standards with Style!
Together with Thesis & Me you will meet the requirements of your university for printing and binding your dissertation with style. To achieve this, several factors must be taken into account, including color vs. black & white printing, single vs. double-sided printing, and the required number of copies.
Color or Black & White: The first factor to consider is whether to print in color or black & white, depending on whether your thesis contains any sections that might require it. Color printing is no charged extra, but it is often necessary if the thesis contains graphs, charts, or images that require color.
One-Sided or Double-Sided: The second factor to take into account is single or double-sided printing, again determined by the university's requirements. Double-sided printing conserves paper, but it may impact the readability of the text.
Number of Copies: The third and final factor is the number of copies needed. Though most universities require at least two copies, it's essential to verify the university's specific requirements to ensure that the correct number of copies is printed and bound.

Curious about what your thesis will look like? Check it with our 3D preview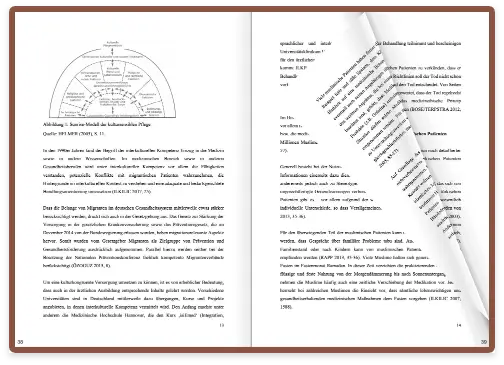 Save Time & Money With Thesis & Me
Get your doctoral thesis a printing and binding in a fast and cost-effective way with Thesis & Me. Our expert team will gladly assist you in configuring your order according to your wishes. Your thesis will be presented in a highly professional manner that will allow you to earn bonus points on your final grade.