Have your Examination Thesis Professionally Printed & Bound
You have finally reached the end of your challenging studies with only one thing left to do: print, bind, and submit your thesis. The hard work is over, so it is now time to kick back and relax: Thesis & Me will professionally take care of the whole printing and binding process for you and deliver your State Examination Thesis at your front door in no time! And because we put your personal convenience at the top of our priorities, we can also ship your printed thesis directly to your university for you. Benefit from our three shipping options: to your personal address, to your university, or both.
We know how tricky the financial situation as a student can be, so one of our main goals is to deliver top-quality services for extremely affordable prices. The machinery we use is state-of-the-art, setting the industry standard high.Thesis & Me's printing and binding services are the perfect blend of high performance and low cost. Let us convince you right away!
Thesis Printing With Thesis & Me – 6 Good Reasons
✔ Modern laser technology
✔ Variety of paper types
✔ Color printing at no extra cost
✔ Data check service
✔ Free & fast courier delivery
✔ Amazing coupon codes
High Paper Quality For Excellent Printing
To begin the process, the content of the thesis is printed using advanced laser technology. The printing is done on paper of varying quality, including 80gsm (standard), 90gsm (superior), 100gsm (premium), and 120gsm (deluxe). This guarantees that the order will be free of any imperfections such as dots or lines.
Standard Quality 80 gsm Paper
Choosing 80 gsm paper for printing state examination theses is a great low-budget option. This type of paper features a smooth, non-glossy finish that minimizes glare and reflections, resulting in enhanced readability of printed text and graphics. The 80 gsm weight is also perfect for printing lengthy documents like a thesis, as it is lightweight enough to facilitate easy handling and binding while still ensuring a quality look and feel. Additionally, utilizing matte paper delivers a professional and sophisticated appearance to the final product, while also being less susceptible to fingerprints and smudges, making it well-suited for long-term archival purposes.
Superior Quality 90 gsm Paper
Matte 90 gsm paper is a commonly used option for printing state examination theses. Its heavier weight and smooth matte finish contribute to a sophisticated appearance and texture of the finished product. The paper's thickness guarantees that the pages remain flat and smooth, making it convenient to manage and peruse. The matte finish also decreases glare and reflections, ultimately resulting in clearer and easier-to-read text and graphics. Additionally, the paper's robustness ensures the longevity of the state examination thesis, preventing it from becoming brittle or yellowing with time.
Premium Quality 100 gsm Paper
An ideal option for printing state examination theses is matte 100 gsm paper. Compared to 80 gsm and 90 gsm paper, this paper variation is thicker and heavier, creating a more luxurious feel for the final product. The additional weight of the paper also enhances its ability to hold ink, making it a perfect choice for printing high-quality images and graphics. To sum up, using matte 100 gsm paper provides a premium finish, excellent readability, and durability that will ensure the preservation of the state examination thesis for many years to come.
Deluxe Quality 120 gsm Paper
When it comes to printing state examination theses, our top-of-the-line option is our 120 gsm paper, which boasts the highest quality. This paper provides a superb feel, exceptional readability, and impressive durability, while also holding ink exceptionally well. By choosing this option, your thesis will stand out and make a lasting impression on your readers. Additionally, this paper is heavier and thicker than the other options, which contributes to the overall luxurious and high-quality appearance of the final product.
Impress With Top-Grade Paper
Choosing top-notch paper to print a state examination thesis showcases the author's commitment and perseverance in producing a high-quality document, instilling a sense of achievement and pride. To give your thesis an elegant look, two 200 gsm paper sheets are added, enhancing its overall presentation. The final step in the process will differ based on the type of cover chosen for the thesis, i.e. soft cover or hard cover.
How much does it cost to print my thesis?
The pricing of thesis printing depends on various factors, such as:
the number of pages
the type of paper used
the binding method utilized
the number of copies needed.
Once you provide us with your specific order details, we will present you with an instant price quote for the completed thesis.
Perfectly Printed Thesis As Per Your University Requirements
Thesis & Me guarantees that your state examination thesis meets all university requirements during the printing and binding process. Several factors should be considered, such as whether to print in color or black & white, single or double-sided printing, and the number of copies required.
Color Printing vs. Black & White Printing: The first factor to consider is the choice between color and black & white printing, which largely depends on the contents of your thesis. The use of color may be necessary for the inclusion of color graphs, charts, or images, and it does not affect the printing cost.
One-Sided or Double-Sided Printing: The second factor to consider is single or double-sided printing. Again, the university's requirements dictate this decision. Double-sided printing conserves paper but may affect the text's readability.
Number of Copies: The final factor to consider is the number of copies required. Universities typically require two copies, one for the supervisor and one for the university library, but it is crucial to verify the specific requirements of the university to ensure that the correct number of copies is printed and bound.

Curious about what your thesis will look like? Check it with our 3D preview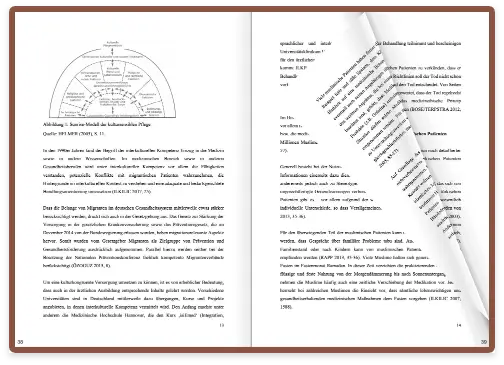 Choose Your State Examination Thesis Printing & Binding Option
If you are looking for high quality printing and binding at a low cost, Thesis & Me will provide you with both thanks to its high technology and professional team who will be happy to help you complete the last part of your thesis. This way, your thesis will be presented professionally, allowing you to earn extra points on your final grade