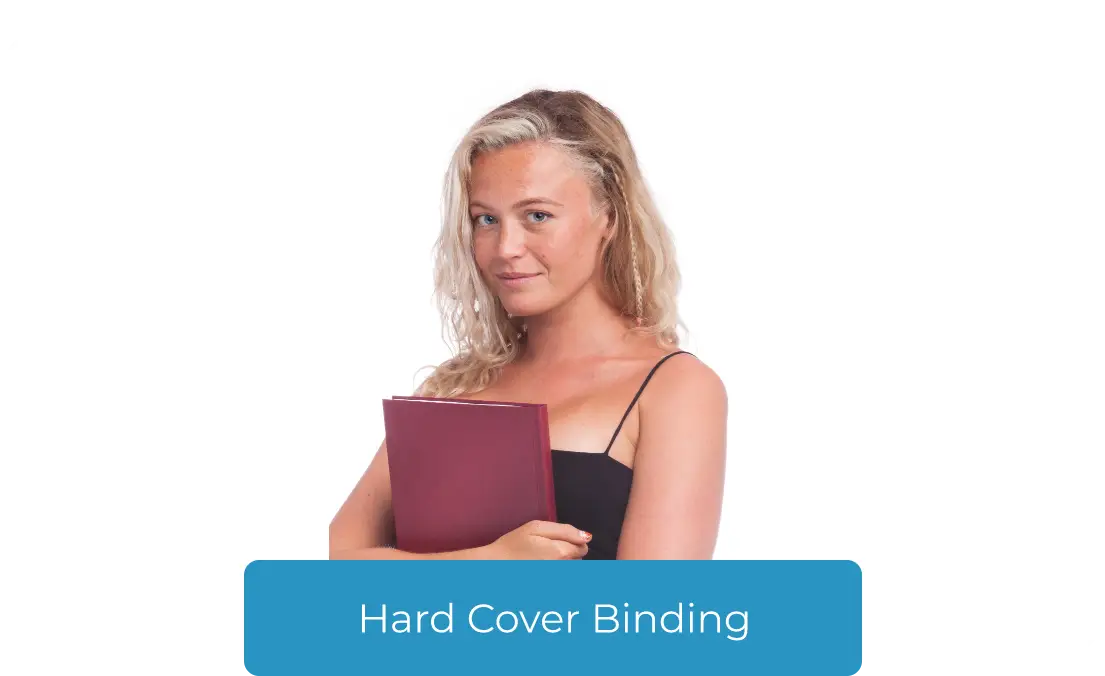 Hard Cover Binding – A Bond For Life
Durability and stability are dear to you? Hard cover binding is the right choice! Benefit from an optimized clamp binding process. For a robust result in an elegant linen look. In 4 different colors. Long live your thesis!
Top 6 Advantages Of Our Hard Cover Binding
✔ High-quality materials
✔ Extremely durable & sturdy
✔ Dirt-repellent
✔ Elegant look
✔ Multiple color choices
✔ Perfect price/quality balance
Hard Cover Binding With A Timeless Color Design
All good things come in fours. Achieve the color effect you want. Choose from these timeless color options for your hardcover binding: a classic, elegant Black, a harmonious Blue, a powerful Bordeaux, and a flawless White. Every choice is a hit. What's it going to be?
This is Why A Hardcover Binding is So Strong & Stable
Our hardcover thesis binding option provides a durable and high-quality solution for your thesis. The cover is made of strong cardboard, and the exterior material features a matte lacquered linen structure that resists fingerprints and has a pleasant feel.
The pages are lined with acid-free white paper and are stitched together to ensure durability, while the optimized production process utilizes state-of-the-art technology for precise and stable binding. The hardcover binding is available in standard A4 size. The maximum number of sheets that may be bound is 280, and we use ultra-secure and long-lasting clamp binding.
Trimming pieces of cardboard to the cover size before placing them into the cover manufacturing machine is part of the assembling process. A case building machine is used to apply an adhesive to a cloth-like linen cover that is securely applied to the piece of board, resulting in a robust, hard cover for the book.
The outside fabric will be secured with long-lasting glue that will keep the spine tightly stuck to the carefully-prepared contents of your thesis. The robust and dirt-resistant cover with a pleasant feel protects the bound content incredibly well.
Fast & Free Shipping For On-Time Delivery
We understand the importance of meeting your university deadline, which is why we work extremely fast to ensure that your order is produced and shipped within 24 hours after you place it. If you wish, we can send your thesis to your home or to the address of your university. Our secure and also environmentally friendly packaging ensures that the shipment arrives in smooth condition.

Curious about what your thesis will look like? Check it with our 3D preview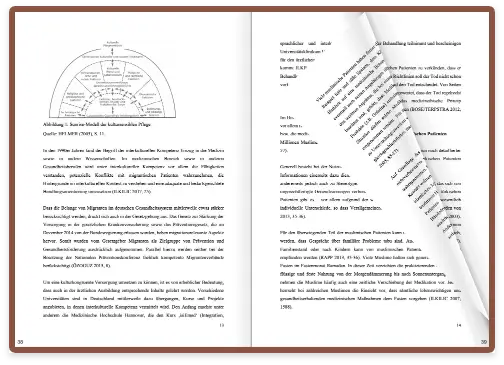 The Hard Way IS The Smart Way
Hard but smart. Opt for our high-quality sturdy hard cover option for a book that stands the test of time. Leave a lasting impression with your perfectly printed and bound hard cover thesis. Make sure your work stands out. Choose quality that reflects your hard work. Order today!