Softcover Binding Professional – Convince With Transparency
Looking for a lower-priced alternative to hardcover binding? You've come to the right place. Discover our smart softcover binding. Guaranteed good & inexpensive! Tailored title design - stable back - custom color selection: a binding that inspires. See for yourself!
Top 6 Advantages Of Our Soft Cover Binding
✔ Top-quality materials
✔ Custom & transparent title design
✔ Light & compact
✔ Protection from fingerprints
✔ Tightly secured
✔ Top price-quality ratio
Softcover Binding With 4-fold Color Variety
A beautiful rear can also endear! With the right color for your back cover. You are spoilt for choice! Whether a captivating Blue, a classic Black, a pure White or a confident Bordeaux – you will dazzle and delight with a fantastic sight. Choose the color that suits you best!
Soft But Solid – Our Secure Soft Cover Binding Service
Meet the Soft Cover Professional – the cost-effective and time-saving alternative to hardcover binding that will elevate your thesis to the next level! Thanks to a sleek translucent front cover with a 120-micron film for a unique title design and a sturdy 270 g/m2 thick sturdy cardboard back cover featuring a luxurious, smooth linen texture, your thesis will look and feel absolutely stunning.
The A4 format is perfect for documents ranging from 15 to 140 sheets, making this binding technique a versatile option for all of your academic needs.
But the beauty of the Soft Cover Professional doesn't stop there. Our clamp binding technique ensures that your thesis will withstand the test of time, reinforcing the book and preventing any unfortunate page rips or tears. Whether you're presenting your term paper, essay, or academic thesis, our soft cover clamp binding folders are the tried-and-true choice that will leave a lasting impression.
Don't settle for anything less than perfection. Choose the Soft Cover Professional for an eye-catching and durable binding option that will make your thesis stand out from the crowd.
Free shipping. First-rate results. Fast delivery.
Don't let deadlines stress you out. With our lightning-fast production and shipping, you'll have your softcover thesis shipped 24 hours after placing your order. Safe and environmentally friendly. If required, we will send your thesis not only to your doorstep, but also directly to your university.

Curious about what your thesis will look like? Check it with our 3D preview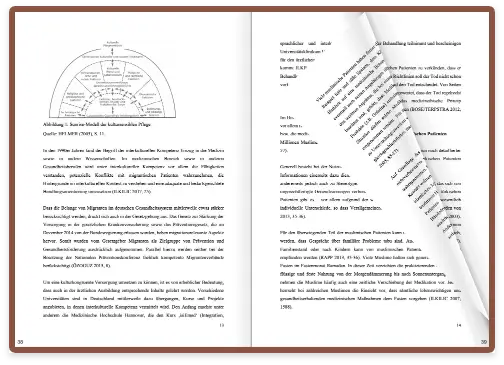 Variety, Versatility & Velocity: Go Soft Now!
Softcover binding is the proud alternative to the heavier and more unwieldy hardcover. You benefit from a noticeable savings effect without compromising on the price-quality balance. Leave the tedious business of printing and binding your book to the professionals. Order now for speedy delivery!